Congrats to AJ Powers on publishing Loose Ends! I remember how it felt, seeing my work made available for the first time. I recommend it for anyone who is interested in a great read at a bargain.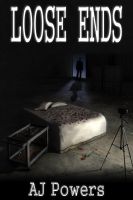 I made a few changes to my own favorite short on Amazon, Justice Aside. The cover art was beautiful! I loved it as much as the story itself, although I knew that much of the detail, such as paper texture, was lost when it was shrunk to thumbnail size and pasted onto the website. What I had never considered was that the story title and author name may simply have been too small to see when scaled down. Well, when I looked closely they weren't too small to see… They were mostly behind the little image of a Kindle that Amazon likes to put over each of its book covers. So, I moved, resized, and reworked the text to make it visible. Check out the comparison below.
Before: (image shrunk, right click for original size)
After: (Amazon's actual thumbnail)
These images are scaled as small as they would appear on Amazon.com. Obviously the new image displays the author name more effectively, though the title remains somewhat muddled by the elaborate font. I maintain it's legible. The full size image looks just as sweet as the original and you can take a look at that by clicking on the cover at Amazon.
Feel free to pick up a copy of this short, as well. It's around 17,000 words long and reads very easily. Outlaw is such a common word, we hardly understand its origins. We usually think of a gun-toting criminal that the marshal tries to capture and the barkeeps fear. But every now and then, in the old West, being an outlaw meant you were a target for everyone else, even the law abiding. It meant they were allowed to rob from you, injure you, to kill you and even if you took your case to the courts, you'd have no claim, no matter the weight of evidence in your favor. Thus, outlawry was a court's way of discouraging people from ignoring the court's decisions. It fully separated such people from protection under the law and even condoned blatant injustice, as a threat to others who may shirk their responsibility. Justice Aside is a story where the very evils meant to be stopped by the law are encouraged.